Temporary hair color spray – Temporary hair color sprays don't require mixing as permanent hair dyes do. They can be applied straight to the hair. Temporary colors are suitable for persons searching for a modest touch-up or experimenting with colors because they may fade after two or three washes. Because they don't include bleach, temporary hair colors won't lighten the hair.
Changing your hair color doesn't necessarily need significant investment. You may quickly test a new hair color trend with a temporary hair color spray. A wash-out hair color enables you to experiment with shades without damaging your hair by bleaching or coloring until you discover the best style. Learn how to quickly acquire a new, fresh color by reading on to find out how to apply a temporary hair color spray.
What Is A Spray-On Temporary Hair Colour?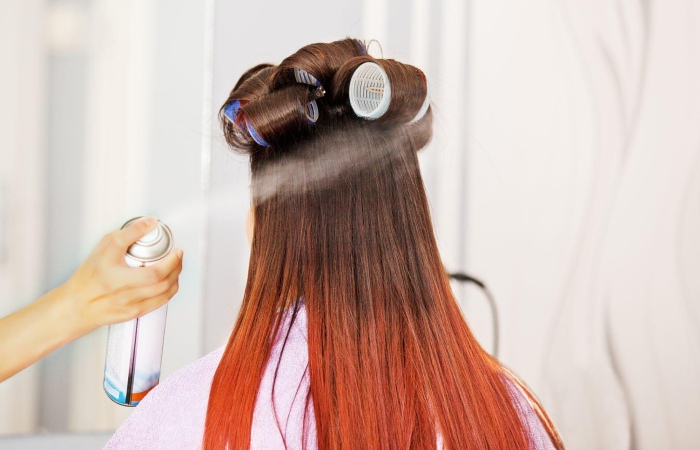 A hair color spray is a temporary hair dye that offers a non-damaging, short-term option to color your hair. It is sometimes referred to as wash-out hair color. Temporary hair color sprays, unlike other forms of hair dye, only cover the exterior of the hair shaft with a dye that typically fades in a few shampoos or less. Temporary hair color sprays may be used on all types and textures of hair because their recipe doesn't include ammonia or peroxide.
How To Use A Hair Colour Spray Temporary
A temporary hair color spray is perfect if you're ready for a quick hair color change. The L'Oréal Paris Colorista Hair Makeup Temporary 1-Day Hair Colour Spray is available in your favorite Shade. Your possibilities for experimenting with your hair are endless with the eleven colors, including red, rose gold, pastel mint, and blue. You may experiment with peek-a-boo highlights, the newest ombré dip-dyed style, or cover your entire head without touching a bleach bottle. Everyone may participate in the fun with this wash-out hair color because it is made for both blondes and brunettes and is suited for all hair types.
Be sure to thoroughly shake the bottle before using it. Hold the can four to six inches from your dry hair and spray anywhere you like while draping a towel across your shoulders to protect your clothes. Spray sparingly and wait a few minutes for the color to dry entirely before adding more since the color will become more intense after it does. Additionally, depending on the length and thickness of your mane, you might need to use more than one can if you want all-over color.
Is Hair Damage Caused By Temporary Hair Color Spray Possible?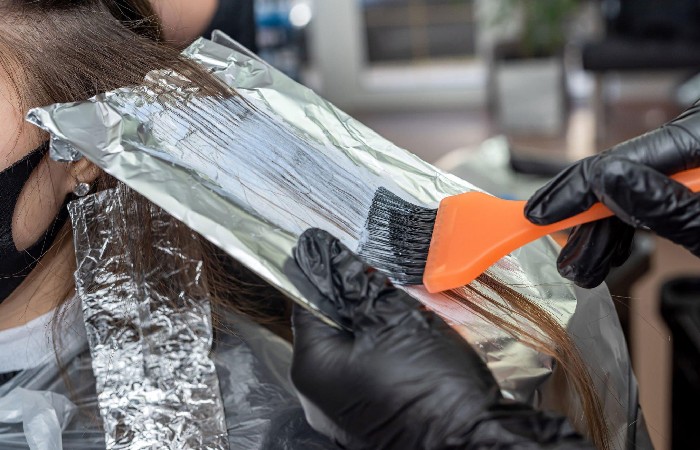 Without a doubt! The only color you should use on your hair outside the salon is the less harmful. "Temporary hair color remains a whole different ballgame," claims Diaz. "There is no chance of damage." Just switch to a color-safe shampoo to keep any transient color.
There is a catch: Even temporary color may become more permanent if you have ashen, natural hair. O'Connor advises that the color will take longer to wash off the darker the temporary color and the lighter the hair. Although it could change your natural hair color for a little longer than you had anticipated, it won't necessarily harm it.
Which Temporary Hair Coloring Is The Best?
Hair mascara is a simple trick to give a joyful splash of vivid color. It's not just for hiding grey hairs. Directly brush some color into your hair with the wand. It only lasts a few shampoos, making it the most transient color.
Hair chalk is fantastic since it often appears in all hair colors due to its opacity. Wet your hair first, divide it into parts, and then run the chalk along your strands to utilize for two to four shampoos.
Colored hair spray is precisely what it sounds like – hairspray with additional color! A single application lasts for two to four shampooing.
For at least a week, semi-permanent hair color is effective. Because the molecules of semi-permanent hair color are more significant, they cannot enter the hair.
Bright Hairspray
When you want a transient color that will wash off more quickly than box dye, colored hairspray has long looked like a simple solution. But experts claim it's one of the worst treatments you can give your strands.
Theadora Guzman, Maria Nila's National Educator and Brand Manager, says that hairspray can harm your hair, and too much of it can break it off, especially while removing it. "To notice the effects of the color pigments in these cosmetics, you often have to apply them excessively. It's pretty tough to remove homemade hair color from hair. Most of the time, attempting to remove the color will leave you with damaged hair, or you may need to trim your hair.
To quote renowned hair colorist and TO112 creator Luis Pacheco: "Acetone is frequently the principal component of most hair color sprays sold at costume or budget stores. Avoid using an acetone-containing spray if you've undergone chemical smoothing treatments, keratin treatments, or bonded hair extensions. The keratin will be broken up, ruining your investment in your lovely hair. Go over your labels.
Why Should Temporary Hair Spray Be Preferred Above Other Options?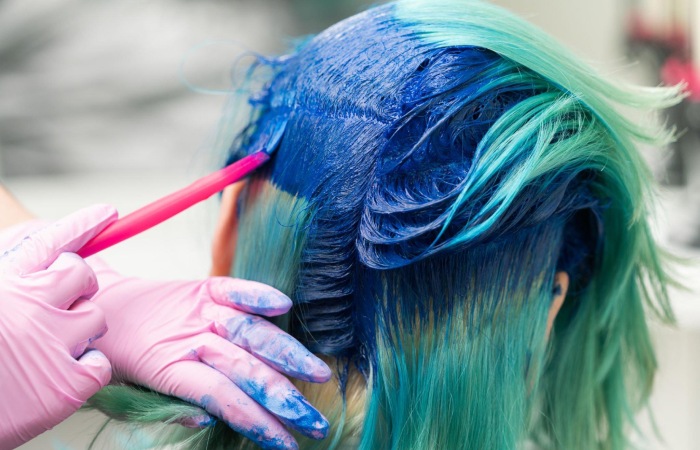 Quick and straightforard: Unlike traditional dyes, prominent firms like L'Oreal have developed hair spray paints for quick and easy application that give an immediate, vivid color that lasts one day.
Everyday variety: You don't have to use a shade that lasts weeks or months. Now that you have the option, you may wear your preferred Shade and present yourself in a dazzling new way daily.
A perfect color: Regardless of how light or dark the base color is, the industry for dye sprays offers a broader range of color options than traditional dyes, ensuring the ideal hue.
Chemicals that might harm your hair or trigger allergies in the scalp or respiratory system are not used to apply these colors; instead, they are applied directly. These ultra-thin, spray-shaped micro powders adhere to our hair until you remove them.
Trial and error: Using aerosols to color your hair allows you to experiment without risks. If you apply the color and decide you don't like it, you can easily take it out and try another without harming your hair or spending much money at the salon. The use of conventional dyes makes this problematic.
Are Temporary Hair Colors Used In Salons?
Every time! You've probably already used semi-permanent colors if you've blended out noticeable grey hairs or used a color mask. Semi-permanent color is used in salons to grow out permanent color, give gloss and shine to strands, or add depth to your color. Shade claims it may even provide a highlighted appearance depending on the hair and the Shade chosen.
Permanent Or Temporary Hair Color—Which Is Best For Your Hair?
Although it's understandable to ask whether semi-permanent or permanent hair coloring is preferable, the reality is that each offers advantages of its own.
Semi-permanent hair color is less harmful to strands since it doesn't reach the hair shaft as permanent color does. However, because it fades more rapidly, you might have to use it more regularly to keep your color vibrant, which might be bad for your hair over time. When coloring your hair, discuss the best practices with your stylist to ensure its health and integrity.
What Distinguishes Temporary From Demi-Permanent Hair Coloring?
Demi-permanent hair color, in contrast to semi-permanent color, needs a developer or a small amount of hydrogen peroxide to open the surface of the hair and deposit color slowly. It implies that it often lasts a little longer (12 to 24 shampoos) before fading. It's utilized in many circumstances as semi-permanent color, improving your natural color, darkening, or lowlighting hair.
Ask your colorist about Redken Shades EQ Hair Gloss if you want to experiment with demi-permanent hair color. These ammonia-free formulations combine oxidative and direct dyes and show effects in just 20 minutes. The Shades EQ collection offers tone adjustments, color adjustments, and brand-new hues with minimal commitment. Plus, they contain amino acids that help to disorder the hair and leave it looking super shiny.
Temporary Hair Coloring
If you want to modify your color gradually, are worried about harming fragile hair, and don't mind it washing out, semi-permanent hair dye is typically the best option. If you wish to, you may choose it by:
Combined highlights and your primary color
Correct an off-tone color (such as a brassy blonde)
Revitalize fading hair color
Apply temporary root touch-ups.
develop a lasting color
Combine greys
Shine and tone up dry or lifeless hair.
Suppose semi-permanent or permanent hair color is right for you. Plan a consultation, request that your stylist examine your hair, and discuss your objectives to determine which procedure will best achieve your goals. t together to determine which option will give you a color that's just right for you.