Plum Burgundy Hair Color
A deep purple hue with crimson undertones, plum burgundy hair color.
The hue is both chilly and warm (red) (purple)
Adapts to all hues and skin tones
Plum burgundy is a rich, purple-toned colour with a touch of red pigment added for the distinctive tint. This purple-toned, occasionally reddish tint is given a darker shade by the addition of a tiny amount of brown pigment.
Because plum burgundy can be worn with every skin tone and undertone because it is both a warm and cool colour (warm, cool, and neutral). In fact, because they blend well with both warm and cool hues, plum tints are frequently referred to as "neutral" tones in interior design.
The same reasoning holds true for hair colour. To complement every undertone and skin tone combination, plum burgundy hues come in a variety of rich undertones, including violet (cool), blue (cool), red (warm), and brown (warm).
It's a hair colour that may warm up with more warm brown or red tones, making it incredibly flexible (think scarlet, merlot, or mulberry-tinted plum burgundy).
Increased violet hues (such amethyst, violet, or plum burgundy with a grape tinge) or cold pink hues with blue overtones can make it a touch cooler (like raspberry or fuchsia).
Colors Similar to Plum Burgundy Hair Color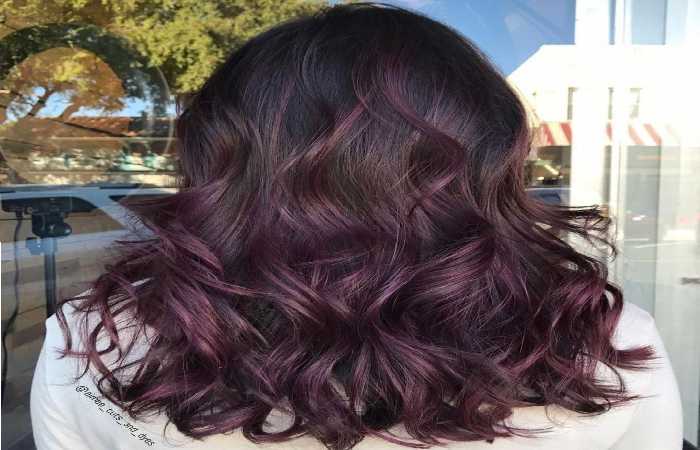 If you appreciate the deep richness of plum burgundy hair colour but aren't sure if this shade is perfect for you, you might like one of the hues that are close to it. The hues that are most like plum burgundy include:
Maroon
Maroon is a balanced warm deep purple hair colour with red and brown undertones. Compared to burgundy or plum burgundy, which both have more pronounced purple undertones, it is a browner hue. Maroon hair colour complements warm skin tones and is frequently described as a purple-brown red.
Burgundy
A rich red hair colour with purple and brown undertones is called burgundy. Burgundy comes in a variety of hues, including warm deep brick red, cool dark raspberry, and cool purple-heavy plum.
If the overt purple tones in plum burgundy don't appeal to you, a conventional burgundy shade with more red and brown may be more your style.
Berry red
In comparison to darker shades of plum, burgundy, merlot, or maroon, berry red is a warm or cool purplish red hair colour that is a little brighter.
With more red and a pinkish appearance, it also has some purple and brown to provide some balance. A colder berry tone that is more appropriate for cool undertones is produced by adding blue undertones.
Who Looks Best With Plum Burgundy Hair Color?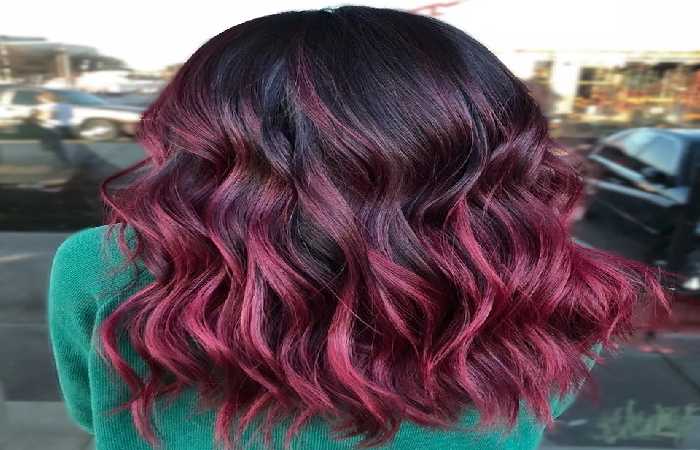 Generally speaking, anyone—and we do mean anyone—can pull off plum burgundy hair colour. It complements all skin tones from fair to deep and all undertones from warm to cool because it has a harmonious balance of warm and cool tones (due to the violet, red, and brown undertones).
Still, for the best match, bear in mind your skin tone and undertones while selecting the appropriate plum burgundy colour for your complexion. Darker skin tones will look much better with a rich, black- or brown-heavy plum burgundy than very pale skin.
On fair or medium skin tones rather than deeper complexions, a highly saturated, vivid plum burgundy colour with less depth and more violet/red tones may appear preferable.
Similarly, it's crucial to blend your plum burgundy with the proper tone balance to complement your undertones. The most attractive shade of plum burgundy may be more violet or cool pink for those with cooler undertones (flattered by silver jewellery with bluish/purple veins).
To look their best with plum burgundy hair color, warmer undertones (flattered by gold jewellery with greenish veins) require more brown or red tones in the colour.
What Colors Work With Plum Burgundy Hair Color?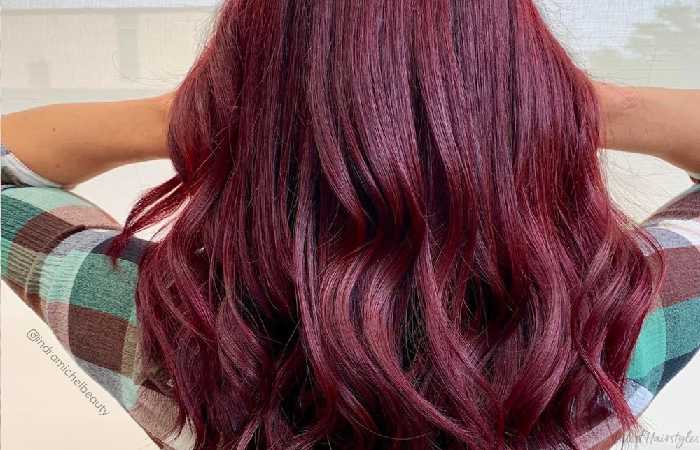 You can use plum burgundy with practically any hair colour for stunning, multi-toned effects because it has both warm and cool undertones. But it really shines when paired with any of the hair colours listed below!
Deep Fuchsia Pink
To create this lovely shade that would look fantastic next to a violet-plum burgundy, mix vivid and vibrant fuchsia with a bit brown for depth.
It produces a lovely highlight colour, but for a vibrant, bold appearance, try a deep fuchsia balayage with plum roots!
Espresso Brown
When you want to go darker with your shade, rich espresso brown creates a stunning contrast to plum burgundy.
Imagine an espresso brown basis with plum burgundy highlights, the ideal hue for a shadow root with plum burgundy balayage, or a fantastic lowlight in a plum burgundy background.
Merlot Red
Merlot is a dark red wine with subtle violet and purple undertones and a touch of brown for depth.
It's a deep, warm colour that perfectly complements the plum burgundy's crimson undertones and works well as a highlight or balayage partner.
Burgundy
Plum burgundy contrasts beautifully with a true burgundy colour that leans slightly more toward red with a tinge of deepening brown.
Short, blunt cuts that keep the colour in the foreground look wonderful on this distinctive shade.
Deep Amethyst
Thanks to the comparable purple tones and rich depth of deep amethyst, it pairs beautifully with plum burgundy.
Since this colour has a cool undertone. It will highlight the cooler tones in plum burgundy while bringing out the redder and browner undertones.
Violet Black
Unquestionably inky, violet black has a distinct undertone of violet that is most noticeable in the light.
Due to their comparable purple undertones, violet black and plum burgundy go well together as a base colour. A lowlight, or a root colour with plum burgundy highlights or balayage.
Also Read: Permanent Hair Removal – Permanent Hair Removal Methods and More